1992 Olympian John Trautman Returns to the Mile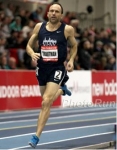 February 12, 2015
Georgetown grad, who lost 60 pounds, will take a shot at the 45–49 indoor Mile world record on Saturday in Boston.
By Alison Wade, Runner's World
John Trautmann, 46, will attempt to break Brad Barton's age 45–49 indoor Mile world record of 4:16.83 on Saturday at Boston University's Valentine Invitational. The record is looking like a realistic possibility after last weekend, when Trautmann set a meet record of 4:18.72 and won the Masters Mile by more than four seconds at the New Balance Indoor Grand Prix.
Six years ago and 62 pounds heavier than he is now, Trautmann would not have predicted that he'd be running competitively again, let alone chasing records, even though he was once one of the best runners in the country.
Trautmann doesn't remember the exact details of how his comeback began, but it was probably the summer of 2009 when he made a trip from his home in Manhattan to Rye, New York, to visit his old college coach, Frank Gagliano, who had recently moved to the area.
"I went up there to hang out," Trautmann says. "I had a pair of running shoes on and he actually had me out there doing some 90-second quarters—all 205, 210 pounds of me. Ninety-second quarters were tough. I was huffing & puffing," recalls Trautmann.
At the time, Trautmann wasn't dreaming about breaking records again.
"I was like, 'I'm 40 years old, I feel unhealthy, and I really want to lose some weight.' I didn't think about running competitively at that point, but I did want to feel better," he says.
At his high—or low—point, working as a bond trader on Wall Street, Trautmann was packing 210 pounds on his 5-foot-10 frame. His weight didn't cause him to stand out in a crowd, but he bore little resemblance to the competitive runner who raced at 137 pounds in his prime, in 1992
"The guys I used to work with [would] laugh at me and say, 'This guy was on the Olympic team.' And they'd say, 'What was he, a shot putter?'" Trautmann says.
He recalls eating poorly. "I'd have like five Krispy Kreme doughnuts and my boss at that time would line them up like the Olympic rings and call them the 'Olympic breakfast,'" Trautmann says.
As a distance running star for New York's Monroe-Woodbury High School, Trautmann had once seemed unstoppable. He set the national high school 3000 meter record and held it for 18 years, until Galen Rupp broke it in 2004.
He went on to Georgetown, where Gagliano coached him to an NCAA 5000m crown in 1990 and additional success that earned him a spot in Georgetown's Athletic Hall of Fame.
Trautmann made the 1992 Olympic team but was forced to drop out of his 5000mbar semifinal in Barcelona due to an injury to the first metatarsal on his left foot. The injury never really got better. Though he continued to try to run professionally through 1996, he was never able to fulfill his potential, starting a slow and cruel end to his professional career.
Continue reading at: runnersworld.com