A Campaign to Bring Back 'America's Distance': The 1-Mile Race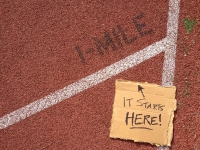 June 06, 2014
"When they went to meters, I think you lost a good portion of the public, because the public has a difficult time understanding just how far is 1600 meters." - Jim Ryun
By Tom Goldman, NPR's All Things Considered
Fifty years ago this week, teenager Jim Ryun of Wichita, Kan., ran a Mile in under 4 minutes, the first high school boy to break the mythical barrier. But in the last few decades, the Mile as a racing distance has fallen out of favor.
Ryan Lamppa is trying to bring it back.
As part of his job as media director for Running USA, a national nonprofit for the running industry, Lamppa was digging around for articles about track & field and running a few years ago when he kept seeing stories about two distances: the marathon and, to his surprise, the Mile.
Lamppa's search proved that the Mile is a big part of our sporting culture, and it sparked an idea to create a campaign to bring back the 1-Mile race. The seed for his effort was actually planted long before, when, in the fourth grade, Lamppa read The Jim Ryun Story.
"That book blew me away, in the sense that here was this teenage boy from Kansas, who was training like a madman, who was setting U.S. and world records in the Mile. It was hard to fathom, but it was also very inspiring," he says.
Today, Lamppa's hero has joined up as a fellow pitch man for the campaign, called "Bring Back the Mile." Ryun, in San Diego this week at events commemorating his high school sub-4 minute Mile, says the Mile race began to fade in the late 1970s during this country's efforts at metric conversion.
Continue reading at: www.npr.org