A Mentor and Her Protégé Will Face Off at USATF Outdoor Championships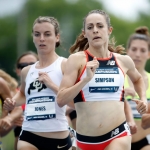 July 23, 2019
Rio Olympic medalist Jenny Simpson and collegiate standout Dani Jones have become like "sisters," pushing each other to run harder and smarter.
By Taylor Dutch, Runner's World
As one of the youngest competitors on the starting line at the 2018 USATF Outdoor Track Championships, Dani Jones couldn't help but feel nervous. A soon-to-be junior at the University of Colorado, Jones was competing in the preliminary round of the women's 1500 meters against the best middle distance runners in the country.
Finishing in a time of 4:08, she placed sixth in the first of three heats. Almost certain that she missed her opportunity to compete in the championship final, she dropped her head in disappointment shortly after crossing the finish line.
But that moment didn't last long. Almost immediately, heat winner—and Jones's training partner—Jenny Simpson reminded her to have faith.
"She puts her arm around me and she says, 'Don't let anyone see it. Just put your head up. It's going to be fine,' and I immediately fixed that and tried to be calm again," Jones told Runner's World.
After the results of the next two heats were tallied, Jones ended up being the last qualifier into the final, her first ever at a national championship.
For the past three years, Simpson, 32, and Jones, 22, have been working together in Boulder, Colorado—Jones as a star on the collegiate scene with four NCAA titles and Simpson as a world champion, four-time global medalist over 1500 meters, and Colorado alum with four NCAA titles.
Just as Jones is now, Simpson was one of the fastest runners in the NCAA, a multiple-time national champion, and a leader on her team who eventually went on to become one of the most decorated and consistent middle distance runners ever—she ran her 10th career sub-4:00 in the 1500 meters (a feat that began in 2009) at the Rabat Diamond League meeting in June.
Beyond the accolades, both runners play meaningful roles for each other on a daily basis—Simpson as a volunteer assistant coach and Jones as an athlete on the team. But it's more than a training partner / coach / athlete relationship—it's a mentorship that has lifted both runners on and off the track, and it's one that will come in handy as both athletes prepare to compete at the USATF Outdoor Track Championships this week in Des Moines.
Continue reading at: runnersworld.com