A moment spent on running's hallowed ground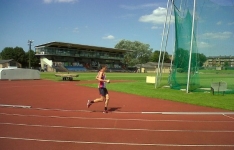 July 23, 2012
By Philip Hersh, Chicago Tribune
OXFORD, England – At the London Diamond League track meet July 13, ten of the 11 finishers in the men's Mile run broke four minutes.
The only rare thing now about that time is how few chances elite international athletes get to run the Mile these days, as the metric Mile (1500 meters) has become the standard distance in most big meets, including the Olympics.
But there still is a special feeling about the place where a runner first broke what seemed like the insurmountable barrier of the four-minute Mile, even if the cinder track on which it occurred was long ago replaced by an all-weather surface, now called the Roger Bannister Track.
Continue reading at: chicagotribune.com