A Racing Season in Review: Heather Kampf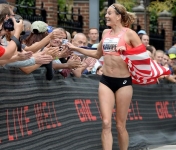 December 21, 2016
Three-peat BBTM Grand Prix Tour champion's 2016 Olympic Trials learning experience and "there is no final destination" for her career.
By Justin Kruse, MinneapolisRunning.com
Recently, I had the chance to sit down and talk with Team USA Minnesota athlete and Queen of the Road Mile, Heather Kampf. I wanted to talk to her about her 2016 season, to know what it was like training for the biggest stage in the world as she prepared for the Olympic Trials, and how one deals with training for an event with such magnitude.
In 2012, Heather placed 7th in the 800 meters at the Olympic Trials and was also the USA 1 Mile road champion. Since 2012, Heather has placed first at a number of road miles (24 & counting), including the Ryan Shay Mile, GNC Live Well Liberty Mile, Michigan Mile and Minnesota Mile, earning her the nickname "Queen of the Road Mile". In 2014, Heather was 3rd in the 1500 meters at the USA Indoor Championships. In the summer of 2016, she became the 4-time champion of the U.S. Road Mile, held in Minneapolis at the Medtronic TC 1 Mile, hosted by Twin Cities In Motion.
Heather told me she felt like every season from the past few years was building towards 2016 and the Trials. Early on, she focused on strength and endurance to help get through the season strong, and despite dealing with a few bouts of bronchitis, her indoor season went well, taking third place in her first 3000m at the Armory Track Invitational (8:58) and fourth in the 1500m at the USATF Indoor Championship (4:11.56).
Continue reading at: minneapolisrunning.com