After Breaking American 2 Mile Record, Simpson is Motivated for More in 2018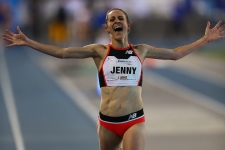 May 04, 2018
I'm over 30 and I think that I'm still going to get better. I want to run a PR in the 3000 meters. I would love to PR in the 1500 meters again.
By Chris Chavez, Sports Illustrated
Over the weekend, Jenny Simpson added another accolade to her decorated career by shattering the American record in the two-mile with a 9:16.78 win at the Drake Relays in Des Moines, Iowa. The previous record of 9:20.25 was set by Shannon Rowbury in 2014.
At 31-years-old, Simpson is the most decorated U.S. distance runner at 1500 meters with a gold medal from the 2011 World Championships, a silver in 2013 and then a bronze medal at the 2016 Rio Olympics. She is coming off a year in which she earned another silver at last summer's World Championships in London.
Aside from Wednesday's Diamond League opener, Simpson's 2018 schedule is still in the works but there be a chance for her to possibly chase Rowbury's American record of 3:56.29, which was set in 2015.
On Wednesday, SI caught up with the New Balance athlete to catch up on her goals and plans for the 2018 season and examine how she's remained a dominant force in U.S. distance running. She will be running the 3000 meters at the Doha Diamond League meet on Friday.
Sports Illustrated: This year is an off-year from the IAAF World Championships or Olympics. The last time it was an off-year was 2014 that's the same year that you ran 3:57.22 (third-fastest American woman at 1500m of all-time). You opened up your 2018 campaign with an American record in the 2 Mile at the Drake Relays. As a veteran, do you just naturally approach the off-year as a chance to chase fast times?
Jenny Simpson: I had not really made that connection but you're right. In 2014, I went after that 1500 American record with a vengeance but didn't quite get there. I did have some really good runs along the way and obviously laid a foundation for the next few years. The way I wrap my mind around an off-year is it's the one year out of every four when you can break out of a routine and the intense focus on one specific, regular schedule. It's usually rust busters, getting in shape, running USAs, making the team, going on a trip to Europe, running Worlds or the Olympics and then running on fumes as long as you can or until Fifth Avenue Mile and then come home. I've had a set rhythm for every year and this is a chance to break out that.
Continue reading at: si.com