An interview with Mile legend Marty Liquori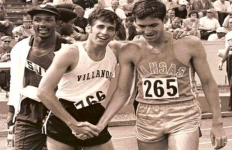 August 31, 2011
"In those days the Mile was such a glamour event that it was better to be the fifth best Miler in the world than the top 5000 meter runner."
From Gary Cohen Running
Marty Liquori earned the Silver medal in the 5000 meters at the 1977 World Cup in an American Record 13:15.1. He has ranked #1 in the World at both 1500 meters and 5000 meters and won a total of 14 national titles at distances ranging from the Mile to 5000 meters. Marty was a three-time NCAA Mile champion in 1969, 1970 and 1971 while at Villanova University. He is one of seven U.S. high school runners to run a sub-4:00 minute Mile with his 3:59.8 at the 1967 AAU Championships.
In 1968 Marty became the youngest Olympic 1500 meter finalist in history at age 19. His Olympic chances were thwarted by injuries in both 1972 and 1976. Perhaps his most memorable race was winning the 1971 'Dream Mile' against Jim Ryun, though he set his 3:52.2 personal best in finishing second to Filbert Bayi's 3:51.0 World Record at the 1975 'Dream Mile.' He won the gold medal at the 1971 Pan Am Games in the 1500 meters. Marty was a member of Villanova's 1971 NCAA Cross Country team champions and nine Penn Relays champion relay teams. His stellar high school career at Essex Catholic (New Jersey) included winning the Eastern States Cross Country Championships and his team setting American records for both the distance medley and the four Mile relay.
Marty's Personal Bests include: 880y – 1:49.2; 1500m – 3:36.0; Mile – 3:52.2; 2 Miles – 8:17.12; 5,000m – 13:15.06 and 10,000m – 29:08.9. A co-founder of the Athletic Attic chain of running stores, he went on to become an author and television commentator, working with ABC-TV at the 1972, 1976 and 1984 Olympic Games. Marty is currently a professional jazz guitarist. He resides in Gainesville, Florida with his wife, Debora, and has three children, Michael, Connor and Meredith. Marty was very gracious in inviting me into his home for over two hours for this interview.
Continue reading at: garycohenrunning.com