An Out-Of-The-Blue HS Indoor Mile Record for Hobbs Kessler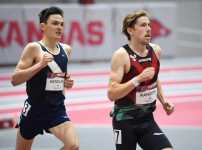 February 08, 2021
"I kind of started slow, but I was looking at the clock and I was right on where I needed to be. I waited and waited and waited, but I had juice at the end."
By Jeff Hollobaugh, Track & Field News
FAYETTEVILLE, Ark. — On Sunday, February 7, no result out of ATL3 was more surprising than the 3rd-placer in the pro Mile. High schooler Hobbs Kessler (Skyline, Ann Arbor, Michigan) came seemingly out of nowhere to break the indoor High School Record with his 3:57.66 clocking.
Prior to the race, the 17-year-old's best time was a 1600 of 4:18.96 (worth 4:20.47 for a Mile) he ran indoors as a junior pre-pandemic. More pertinent was a Mile time trial last summer in which he rabbited for occasional training partner Nick Willis and then grimly hung on for a 4:08.4.
Running conservatively from the back, Kessler had intended to stay directly behind Willis. Early on, he got boxed out of that spot and he ran the first 3 laps in last place in the 8-man field. He passed the first lap+ in 30.74 (209.34m), and for the next six 200 circuits reeled off an admirable sequence all between 29.71 and 30.18.
Coming off the backstretch on lap 6, Kessler made a pass and started to bridge the gap that the leaders were opening up on the field. The pacemaker stepped off at three-quarters, leaving Kessler in 5th, hanging onto the lead pack. Up front was the Big 12 indoor champ for Texas Tech last year, Algerian Takieddine Hedeilli, followed by Costa Rica's Juan Diego Castro and New Zealander Willis.
It wasn't until the final turn that Kessler moved into 4th place. He finished strong, passing Castro into 3rd with 10 meters to go, breaking Drew Hunter's '16 indoor HSR of 3:57.81 with 0.15 to spare. "Oh my gosh. That's crazy," the stunned Northern Arizona-bound senior told ESPN's interviewers.
He had passed 1500 in 3:43.07, 1.14 behind the HSR record that Hunter had set en route to his Mile. His final 400 was 57.04, final 800 1:57.08.
Up front, incidentally, Hedeilli held off Willis' kick to win, 3:56.79 to3:56.82.
Continue reading at: trackandfieldnews.com
NOTE: Kessler became the 12th U.S. high school prep to go sub-4 and the 7th since the launch of Bring Back the Mile in January 2012. See U.S. HS sub-4 history lists HERE.