As We Join Our Show, Steve, Is, As Usual, Running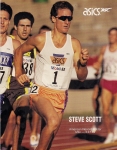 June 22, 1981
Can young Steve Scott, Miler and soap opera junkie, find happiness and success with a world record? You can bet he'd like to find out
By Kenny Moore, Sports Illustrated
Call it the Seven-Per-Cent Problem. A Miler running at 15 mph—or four minutes per Mile—spends a tenth of his energy just overcoming wind resistance. At least a front-runner does. Those following within a yard or two benefit from the leader's setting the air behind him in motion. Spared 70% to 80% of the resistance of still air, the followers can therefore keep to the leader's pace with approximately 7% less work.
As in cycling and auto racing, the efficacy of such drafting means that in a race among equals the pacesetter practically never wins. Thus the need for sacrificial rabbits in record attempts. Too, this explains the dawdling, wait-and-kick races that usually develop in major rabbitless events like the Olympic 1500 meters. It means that any Miler who wants to go hard the whole way and so approach his true limits not only has the distance and the watch to strain against but also that 7% penalty for taking charge of the pace.
Steve Scott, 25, America's best Miler since 1977, has accepted that penalty in almost every important race he has run.
Continue reading at: sportsillustrated.com