Balchin Wins Lovelock Mile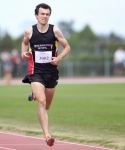 January 06, 2014
Smit women's Open Mile champion at Lovelock Classic
By Timaru Herald
Daniel Balchin (Canterbury) won the Lovelock Open men's Mile in 4 minutes, 14.50 seconds at the Lovelock Classic track & field meet on Saturday, the first New Zealand Grand Prix classic meet of the summer.
He ran at the front from the start with Oska Inkster-Baynes (Canterbury), who finished second, in close contact. New Zealand men's 17 champion, Tannock Blair (Canterbury) finished third.
By winning the Mile, Balchin became the first winner of the Lovelock Mile Trophy, donated by retiring Timaru Boys High School rector Kevin O'Sullivan.
O'Sullivan has taken a deep interest in Jack Lovelock (1936 Olympic 1500m gold medalist and Mile world record holder), an old boy of Timaru Boys' High School, in his 18 years as rector, thus it was a fitting finale to his leadership. Recently O'Sullivan represented Oceania at the IAAF Cross Country forum in Belgrade.
In the open women's Mile, world championship representative Angie Smit (Canterbury 4:50.40) led from the front aggressively to win, but Pippa Trevella (Canterbury 4:58.51), the Oceania champion, kept her honest and it was only near the end that Smit got away, with Fiona Brochie (Canterbury 4:59.51) third.
Continue reading at: www.stuff.co.nz