Barcelona Press Points: Mile and Olympic Legends Kip Keino and Peter Snell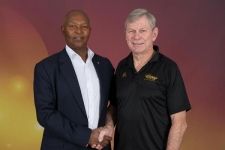 November 24, 2012
BARCELONA, Spain – New Zealand's three-time Olympic middle-distance champion Peter Snell and Kip Keino, Kenya's 1968 and 1972 Olympic 1500m and 3000m Steeplechase champion, respectively, appeared at the press point at the IAAF Centenary Gala in Barcelona. These were some of the highlights.
Peter, you were the last man to achieve the 800m and 1500m double at the Olympic Games in 1964. Can it ever be repeated?
PS: I spoke to Steve Ovett last night and gave him my thanks! Steve folied Sebastian's (Coe) chance of doing that in 1980. It is a tough double, six races in eight days. It is also a lot of fun doing double because you are in the stadium a lot.
Continue reading at: iaaf.org