Behind The Scenes of the Joggling Mile World Record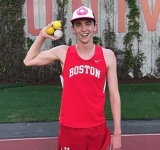 May 13, 2018
With limited preparation, Zach Prescott, after three attempts, broke the 32-year-old world record without a second to spare.
By Citius Mag Staff
CITIUS MAG reader Ian Anderson alerted us to a wacky and goofy world record attempt this week. If you've followed us for the past year, we originated the Blue Jeans Mile (the season begins on Memorial Day and runs through Labor Day) and so we'll pay attention to some of these interesting runs. Anderson tweeted and emailed us about a Boston University's Zach Prescott running a mile while juggling three objects.
Here's how that all came together, according to Ian.
It's a typical Spring day at Boston University's Nickerson Field: friends playing baseball, students tanning on the infield, and… a 6-foot-5 man running 70 second 400s around the track?
Tuesday afternoon, Boston University cross country and track & field athlete, Zachary Prescott broke the longstanding world record for the three-ball joggling mile with a time of 4:43.2. The previous 3-ball joggling mile world record of 4:43.8 was set in 1986 by the American joggling phenom Kirk Swenson.
While world records on the track are typically the result of a culmination of years or even decades of work, Zach approached his run without much thought or preparation.
"I thought I could get the record. So I figured I'd just do that," said Prescott.
Zach first learned to juggle at a summer camp in middle school, and joggling later came into Zach's life through Michal Kapral. Kapral is the current Guinness World Record holder for the fastest joggling marathon at 2:50:12.
Continue reading at: citiusmag.com