Beijing bound Gallagher gave up Wall Street for Olympic dream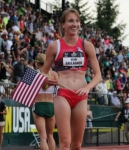 August 15, 2015
"That was an important year [2012] for me in learning how tough it can be but how rewarding as well even when you do come up short."
By Debbie McGoldrick, IrishCentral.com
It takes lots of guts to give up a new career at one of the country's largest financial institutions in pursuit of an Olympic dream, but that's exactly what Irish American Kerri Gallagher did in 2011 when she said goodbye to Morgan Stanley, and hello to a potential slot in next year's Summer Games in Rio.
Gallagher, a native of Belle Harbor in the Rockaways and a standout competitive runner during her years at Bishop Kearney High School and Fordham University, felt she had unfinished business on the track, and when the opportunity presented itself to train on at a facility in Washington, D.C. under the tutelage of one of the country's top track coaches, she grabbed it.
"I hadn't considered running as an option when I graduated Fordham in 2011 and so the normal next step for me was to start work. I had a great opportunity offered to me at Morgan Stanley so I took it," Gallagher, 26, told the Irish Voice.
"I had lunch with my high school coach after graduating and he let me know of this opportunity to train in DC. At that point I decided to go for it."
Continue reading at: www.irishcentral.com