Boulder's Pearl Street Mile keeps rivalry alive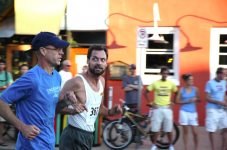 August 11, 2015
Olympian and 3:55 Miler Alan Culpepper provided a "five-day secret training plan." It included some short intervals "to dial in race pace/effort," but not enough to leave me tired.
By Mike Sandrock, Daily Camera
"Hey, Sandrock!"
The voice was a thunderbolt out of the blue, freezing me in my tracks.
I turned and there he was, Dan Skarda, and instantly I was taken back many years to the Illinois high school sectional cross country meet. It was the qualifier for state — very deep and competitive.
I can still vividly recall the first 400 meters. The sectional meet was held at Crystal Lake, on a hilly, wooded course roughly 50 miles west of Chicago. After a start across an open meadow, we had to make a 180-degree turn around a pole.
My team, highly ranked Maine South, got off well, and I was among a large group near the front. I was running on the inside closest to the pole, and as I slowed to go around it, a runner pushed me from behind, his voice ringing out:
"Watch it!"
Continue reading at: dailycamera.com