Breaking 3:50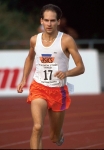 July 05, 1986
The 1986 Dream Mile, Bislett Stadium, Oslo, Norway; "Truly – this feels like flying. No pain – just effortless running."
By Jim Spivey
I gave myself one week to recover from flying over to London, and then picked up only one bag and flew to Oslo, Norway.
The Dream Mile is probably the highlight of the European season for any Miler, as the world record as been set here twice, including last year's incredible 3:46.32. Bislett Stadium in Oslo has a mystique about it. The stadium holds 18,000 people, relatively small compared to a USA football arena.
The stands are within one foot of the outside lane of the track, and in the backstretch, they have only six lanes, feeling like the crowd is right on top of you. A spectator can actually reach out and touch a competitor as they run in this outside lane.
There are metal billboards that hang on the front of these four foot high walls, colored in advertiser's names and products.
Children, the ages of seven, eight and older, lay their chests on top of these walls, hanging their heads over, and use their hands to bang on the signs as the runners go by. They beat in a rhythm on the metal, with parents sitting behind them in their seats, acting more civilized clapping in a steady rate. This effect of hands clapping and metal pounding follows the lead pack around the track, similar to the Wave. It is so loud, that you cannot hear yourself breath when you race.
The time is late, 11:15pm, when the race is to begin, so it can be shown live in the USA at 4:15pm CDT. It is pitch dark outside the stadium, and except for flood lights that sit high upon posts around it, splashing the track with light. The track is thus washed with a street light glow.
Continue reading at: http://jimspivey.com