Camel City Crowdfunds Elite Races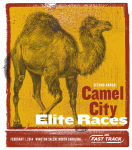 January 02, 2014
Olympians David Oliver and Nick Symmonds highlight the JDL Fast Track's professional athlete development program and the February 1 Hilton Garden Innvitational Camel City Elite Races.
By Bring Back the Mile
A member of the inaugural BBTM Tour 2013, JDL Fast Track has expanded its professional athlete development program for its 2014 season. World Championships gold medalist David Oliver is set to host the David Oliver High School Classic on January 24-25 and the following week welcomes World Championships 800m silver medalist Nick Symmonds to the Hilton Garden Innvitational on Saturday, February 1. Symmonds, who just announced Brooks as his new sponsor, will open his 2014 campaign in the 800 meters. In addition to the Men's Camel City Mile on February 1, JDL Fast Track has added a Camel City Women's Mile as well as professional 800m and 3000m races.
We sat down with Facility Director, Craig Longhurst, to discuss their facility's development, now in its third season, and the creative Camel City Elite Crowd Fund they have setup to directly connect fans of Track & Field with some of the biggest names in the sport.
BBTM: Entering the third season of the JDL Fast Track have you met your initial objectives in opening up an indoor Track & Field facility?
Craig: I think we've exceed our objectives just by virtue of the volume of meets we have and then the caliber of them. Over the next three seasons we have four national championships, four NCAA conference meets this year, and we're already getting calls about next season to learn if they can get in our facility. From that standpoint it's a shame the indoor season is as short as it is. We either need to be in a hotter or a colder climate. We're in this nice sunny belt that in the summer time is not so unbearable that people can't go outside and in the winter by the time you get to March it's OK to be outside.
We're still not at a break even point and I don't know if we'll ever get to that. That's the ultimate goal, but we're also realistic that if it does not happen it's not the end of the world. I think what we're doing with the Hilton Garden Innvitational this year in terms of how large it's getting with some of the names coming, is the hope that it opens some eyes to folks nationally and more potential sponsors. Running Times is also doing an article on us that will run in the March edition; it might be something that gets us in front of the right set of eyes that says, 'hey look at what these guys are doing'. We are keeping our fingers crossed.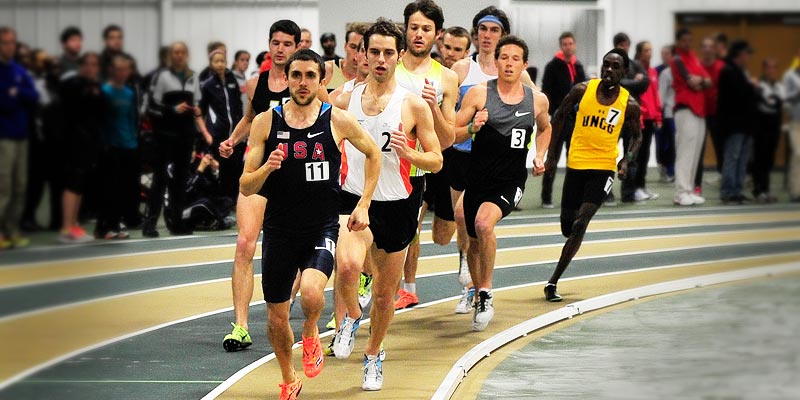 2012 Camel City Mile field. Cory Leslie (#2) won in a North Carolina Indoor Mile record 3:57.81.
The last time we spoke, we discussed the stigma that you can't run fast on a 200m flat track or that athletes head to some of the 300m tracks looking for time trials. Looking through your record books from the first two seasons, is it fair to say you're debunking this myth that a 200m flat tracks are slow?
I think at the high school level, definitely. That might be a function of the high school kids not having as many opportunities to run on the oversize or the banked tracks as they do on flat tracks. Collegiately, we're still not close to where I think we can get, and I think this year the Hilton Garden Innvitational will help a lot with great fields in the Mile, 800m and 3000m. We created a document for coaches and agents outlining why their athletes should come run Camel City. It focuses on logistics, especially for those on the east coast, to come run locally rather than flying three time zones away and putting the athletes through all the jet lag and winter travel hassels as well as expense. Come here and run a guaranteed fast race.
I've also got a chart that shows what the #16 time was in the NCAA last year and what the equivalent is on a flat track. For instance, the Men's 800m and the Mile are the two most glaring examples of this because they cross over some mental barriers. In the 800m the #16 time last year was 1:48.9 or so and the conversion to a flat track crosses the 1:50 barrier (NCAA conversion chart). From a psycological standpoint, you can say, I don't even have to break 1:50 and I have a really good shot at getting in. Similiarly in the Mile, the #16 time was just above 3:59 and with the conversion it's above 4:00.
We can also guarantee to these coaches that the race is going to be setup to race fast. You can go to the Armory or Virginia Tech, a banked track or an oversized track, and you can argue that the track is faster, but can you guarantee that the race is going to be fast? Or is your guy the one doing all the work the first 800m of the race to make sure that they hit the time. Whereas here, we've got rabbits and time bonuses for the elites.
Starting last year, you've made a strong commitment to professional athletes beginning with the Men's Camel City Mile in 2012. You've now grown that to include a women's Mile, 800m races and also 3000m races.
Let me start with the 3000m, because what's interesting, is we don't have prize money in the 3K. I was in touch with a coach at High Point University who was aware of the conversions and has some guys on the cusp of eight minutes. So, we decided to setup a race and get some folks in. The Furman Elite team also has some guys who aren't necessarily Milers per se and we're getting them to rabbit the collegiates. On the women's side, Danny Mackey with Brooks Beast said I'd like to bring my whole team out there so the girls can get their 3K qualifier. We're paying for their travel out here so his women can attempt to get marks acceptable to the IAAF (note: marks on oversized tracks do not qualify for the IAAF World Indoor Championships). We've also got a commitment from Juliet Bottorff, 2011 national champion at 10,000m for the Duke Blue Devils. While, we haven't been able to provide prize money yet for the 3000 meters, we do what we can for these athletes.
There is quite a bit of resources required of a facility to put on professioanl races, human and financial. Walk us through your process and knowing you're not breaking even yet, why do it?
The 'why' was pretty much a means to help us grow our presence amongst colleges. There isn't a lot of incentive you can give to the college coaches to come and run on a flat track, outside of proving to them that with conversions you can get qualifying marks. There was a big program that I actually reached out to and said we'd waive the team's entry fee if they came and he said it doesn't really help him; that he has a big enough budget to travel, so it wasn't a big enough incentive. So, how do we get colleges to our track? We had to raise the profile of our facility and get some publiicty to say, 'last year Cory Leslie ran 3:57.81 in the Camel City Mile, which wasn't too far off his outdoor Mile PR.' This wasn't Bernard Lagat with a 3:49 PR coming in and running 3:57, this was Cory running strikingly close to his PR and setting a North Carolina indoor state Mile record. We felt that was better use of our money to get people to change their minds about our flat track.
For 2013, it was a no brainer to find ways to expand our commitment to the professional athletes. Both David Shannon, owner of JDL Castle, and I were reading stories about Symmonds and how he is trying to change the sport, how he is trying to raise the plight of elite athletes and how so many of them don't have a lot of opportunities. They work random jobs to stay afloat and support their dreams; a much different world than most professional athletes. On a whim we decided to reach out to him and see what it would take to get him here. We went to his website and clicked on the link to contact him. Lucky for us, his agent is the same as Leslie's, so he knew that we could perform and meet our obligations to the athletes. Last year the professional Milers got paid the night of the race and some of them were surprised to get the money that night. Sometimes they don't get paid for 2-3 months after a meet! This all worked in our favor.
We reached out and said, 'what would it take to get Nick Symmonds to come out and race?' He told us what his apperance fee was and what he wanted to get out of it. And we said, 'OK, let's do it.' From there a friend of ours brought up the idea of a crowd fund to help further elevate the athlete prize purse across our races and provide an opportunity connect the fans to the pros.
The Crowd Fund is certainly an interesting way to raise money for races. There are four different levels to support the Crowd Fund, with the Platinum level providing them the opportunity to be at the VIP party after the races with Oliver and Symmonds. How has it been received?
It's funny, it started with a guy who I ran with in college. His original idea was to get friends to put in $100 to fund one of the races. That's where the thought started, but we didn't just want to ask people to give us money without giving them something in return. And we thought many wouldn't want to pay say $200 for dinner. What's interesting though, is that of the 30-plus donors we've had, 25 of them have been at the Platinum level. That's blown my mind a little. Maybe we need to give more incentive to the lower levels.
Maybe this speaks to the fact there are enough fans out there who not only would want to party alongside Oliver and Symmonds, but also believe in the sport of Track & Field. At the end of the day, a $250 donation, compared to where else you might spend $250 not only gives you great incentives, you're literally directly supporting the athletes. That's a unique program and something that fans will pay for knowing the track record JDL Fast Track has with supporting the athletes. What's the deadline to become a Camel City Crowd Fund supporter?
The deadline for the Crowd Fund is January 15. We have that date in place to give us enough time to bring in more athletes with the appropriate funds. We have fully funded the Men's and Women's Miles and 800m races. Now we're at a point where can we get enough to do time bonuses for the Women's 800m and Mile races and I think we'll be able to do at least one of them. If we waited until after January 15 it becomes harder to get athletes in at the last minute.
Are you accepting donations from people outside of the area? Would you still send them a t-shirt?
Yeah, we will be more than happy to send them all the swag that we're providing. The Gold and Platinum level supporters are getting a VIP pass on a golden lanyard with our Camel City logo on it. We're going to mail everything out.


JDL Fast Track facility in Winston-Salem, NC.
In regards to sponsoring the JDL Fast Track throughout the year, how has that process gone and what types of numbers do you have coming through the doors?
I'm guessing, athletes alone, a conservative number is 20,000. We have meets during the week and larger invitationals on the weekends. We have opportunities for sponsors to come in as title sponsors for individual meets or even aspects within the facility. Gatorade is coming in at one of our events to grow awareness of their products amongst the participating athletes. I think we can work with sponsors to prove to them what an exciting facility we have here and grow our work with them in the future.
What's the capacity of the JDL Fast Track.
We have a larger fire code than we actually have seats. Our seating capacity is about 1,600 seats. Obviously for a college meet there are going to be a lot of schools that will still be there during the professional races, so we're going to have play with things a bit. We're purposely running the 4x400m relays at the end of the meet, which will keep things really full. Our fire code capacity is approximately 3,500. There's a lot of standing room only areas and in the infield we'll have our VIP supporters who have paid for the Gold and Platinum level tickets. Hopefully, people start asking how people are in the infield and we grow it for future years.