Camp Kampf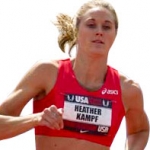 September 16, 2013
Reflecting on the whole thing, I'm sure some athletes measure their success in medal counts, prize money and international fame, but standing in front of that group of kids, all I could think of was, 'I made it', plain and simple.
By Heather Kampf, ASICS & Team USA Minnesota athlete
In the summer of 2010, I was sitting in a dorm room in Leuven, Belgium awaiting my last race of the summer season. I received an email that Apple Valley High School was in pretty dire need of a coach with distance running knowledge to help out with the cross country team in the fall. I decided to come aboard. After falling in love with the kids, it only seemed natural to come on as the distance coach for track in the spring, and now I am beginning my fourth season of coaching at the school! Crazy how time flies...
I share all this about my coaching beginnings because it was through coaching at the school that a new and exciting opportunity presented itself last winter. My co-coach called me, and said that in the past, other schools have hosted youth running camps in the summer, and maybe we should host one. And by we, she meant me.
It had always been a dream of mine to host a running camp, I spent many-a-summer in my college days serving as a camp counselor for various running camps and always had a blast. This seemed like a perfect opportunity to get one started. We worked with the district's Community Education Program to advertise and collect fees online, I hired some of my current/recently graduated athletes to help me out as camp counselors, and suddenly, I had nearly 30 kids, aged kindergarten through 8th grade, signed up!
Continue reading at: http://heatherkampf.blogspot.com