Children run in Mile dash for Huntington's Disease Association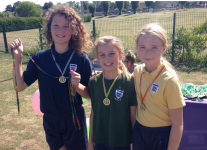 July 12, 2015
Michelle Carlaw ran the London Marathon to raise funds for the Huntington's Disease Association. Now she has organised a Mile for school children.
From Northamptonshire Telegraph
Michelle Carlaw ran the marathon in April because her aunt had the disease, and died in May.
The race, at Higham Ferrers Junior School, was a Mile long and split into year groups, with Michelle's daughter Amelia winning the Year 3 race. Her other daughter, Lily, came second in her race.
Michelle said: "It was actually Lily and Amelia's idea to host the race and they asked Mr. Brown if this was something they could run in the school. PE teacher Mr Morris took it from there and organised a fantastic event. They were inspired by my London Marathon race back in April, and wanted to do something to help the Huntington's Disease Association.
The medals were all kindly provided by Michelle from Cherrie Bakewell Party Cakes in Rushden.
"The children each ran a massive Mile. This was a huge achievement on such a hot day. Every child got a medal for participating, and there were first, second and third place winners, who also got a pair of funky shoelaces."
Continue reading at: www.northantstelegraph.co.uk