Coach Pat McGregor: Breaking 4:30 in a Sub-4 World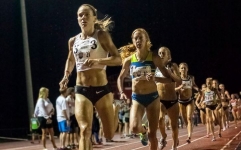 March 01, 2019
Other helpful influences include the campaign to "Bring Back the Mile" and summer Mile track festivals that draw large crowds and prize money.
By Pat McGregor, FloTrack
Indoor track season is in full tilt, and opportunities for men to crack the elusive 4 minute Mile are as abundant as ever.
Year-after-year, some have to see "4:00" flash next to their names and leave meets wondering if they'll ever get under the coveted mark. Some say it's the only reason they continue to compete after college—they yearn to be in the same select club as the runners who inspired them to pursue such a difficult endeavor.
I personally felt an enormous burden lifted from my shoulders when I ran under 4 minutes; I could move on to the next dream in my life. I'm sure if I continued, faster times would've come, but the juice just wasn't worth the squeeze for me. Improving from 3:58 to 3:54 wasn't appealing; however, if I hadn't gotten under 4:00 that day, I would've definitely continued running. Breaking the 4 minute Mile was the only way I felt validated as a good runner.
Yeah, I was little crazy—my commitment to breaking 4 became my identity.
Apart from getting on the "Go Go Juice," I would have done just about anything. But is breaking 4 really that hard? The popular opinion among track enthusiasts seems to be that it's not, and that it's far easier than the 4:30 "equivalent" barrier for women.
In 2018, an annual record 29 American men dipped under 4 minutes for the first time. Overall since 1975, the number of U.S. women who have broken 4:30 currently sits at 78.
Based on this statistic, you could say the two standards are not comparable, and many would agree that 4:30 is a relatively harder standard. I'm sure it's more convenient to use 4:30, a round number, than it is using the less marketable 4:34, but 4:34 is probably closer to an equivalent standard. The current women's andmen's American records, by Mary Decker Slaney (4:16.71) and Alan Webb (3:46.91), are practically equidistant from 4:00 and 4:30.
So why is there such a disparity between the vaunted milestones? Perhaps there is more nuance to these two barriers than previously believed
Continue reading at: flotrack.org