Conley Surprises with Record Run at New Balance Games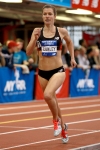 January 25, 2014
2012 Olympian sets Mile PR and facility record; Lee Emanuel wins men's Mile in a meet record
By Chris Lotsbom, Race Results Weekly
NEW YORK -- Here at the 19th New Balance Games, an afternoon of fast times and close races brought fans to their feet at The New Balance Track & Field Center at The Armory. Olympian Kim Conley set a new meet and facility record for the women's Mile with her 4 minute, 24.54 second victory, while Duane Solomon captured the men's 600 meters and Lee Emanuel was king of the Mile in tight finishes.
Conley's overwhelming win in the Mile came as a surprise, as the Olympian at 5000m is thought of as a longer distance specialist. Yet, the 27-year-old knew she had a fast time in her legs.
"My goal was 4:24," said Conley (above, PhotoRun.net), who ran 2:05.92 for 800 meters last week in Seattle on an over-sized track. "I didn't know that this was the race I was going to do it."
Immediately following pacesetter Stephanie Charnigo from the gun, Conley tucked in behind and passed 440 yards in 64.6 seconds. After reaching halfway in 2:10.3 -- just a tad off the 2:10 requested of pacer Charnigo -- Conley felt comfortable, but also a bit baffled.
"I was a little surprised [that nobody was close]," she said. The closest competitors -- Nicole Sifuentes, Morgan Uceny and Sarah Brown -- were more than four seconds and ten meters back. "But then I was kind of happy."
Continue reading at: www.runnersweb.com