Country girl Morgan Uceny aims for first Olympics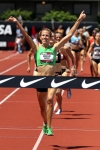 June 05, 2012
As part of USA TODAY Sports' "100 Olympic hopefuls in 100 Days" series, prospective U.S. Olympians give their thoughts on the Games in their own words.
By Michael Florek, USA Today
Last September, Morgan Uceny was 500 meters away from winning a gold medal at the world championships in the women's 1,500.
Recognizable because of her brightly colored beaded necklace she wears during races, Uceny had already won the prestigious Diamond League's overall title in the 1,500.
The 25-year-old thought she had a run a good tactical race and was about to make her move to the front when her legs cut out from under her.
Directly in front of Uceny, Kenya's Hellen Onsando Obiri tripped and rolled into her, causing Uceny to fall as well. The American ended up 10th. Her U.S. teammate Jenny Simpson took a surprising gold.
Continue reading at usatoday.com