Craig Engels wins the fans at Camel City Elite meet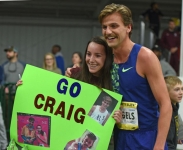 February 09, 2020
Third place finish by North Carolina native & U.S. champion doesn't damper meet-and-greet excitement
By Eddie Wooten, Winston-Salem Journal
He had just crossed the finish line, placing third in the Camel City Elite 800 meter race at JDL Fast Track. Craig Engels' time of 1 minute and 49.03 seconds was nothing short of pedestrian.
"Terrible, terrible," he said. "Pretty bad.
"I was training for the Mile," he said, anticipating World Indoors Championships in China that are now canceled, "doing 80-mile weeks, and I knew stepping down would be tough.
"But I didn't think I was that slow right now," he said, with a laugh.
Slow? An adoring gaggle of fans could not have cared less on Saturday afternoon.
Engels, 25, a Reagan High School graduate, was the fan favorite, and for nearly a half-hour after his race he did nothing but pose for photos and sign autographs – he even signed the pant leg of Reagan sophomore Jordan Collins. He greeted anyone who wanted to rub shoulders with the 2019 U.S. 1500 meter champion.
"Nice seeing you," he told one fan.
"Oh gee, those are dope," he told a college runner who was removing a pink shoe for Engels to sign. "Dude, these are crazy."
"Dude, that is mean! That is nice!" he said to a spectator sporting a curly version of a mullet that Engels has made famous over the years. "I wanted to get a perm when I had it."
Speaking of which, not only is Engels' Prefontaine-esque mustache back, more hair may be on the way as he builds not only his speed but his coiffure ahead of the Tokyo Games this summer.
"The mullet and hopefully and Olympic medal," he said. "A lot of -m's."
Continue reading at: journalnow.com