David Bailey honored as first Canadian to run a Mile in under 4 minutes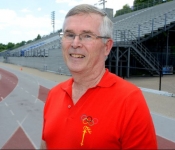 June 19, 2016
"It was a big deal in '66 when he did it — very few in the world had at that point. I know how difficult it is to accomplish that, so we want to celebrate the achievement."
By Hailey Salvian, The London Free Press
On June 11, 1966, David Bailey tried to do what no Canadian had ever done — run a Mile in under 4 minutes.
When he crossed the finish line in San Diego, Bailey, 21 at the time, thought he'd failed.
"I had nothing left in the tank — I was going as fast as I could, but I felt like I'd never get to the finish line," said Bailey, who's now 71 and living in London.
"I finally dragged myself across the finish line and thought I missed it, until Bill (Crothers, his teammate and 1968 Olympic silver medalist) showed me his stopwatch."
The stopwatch showed Bailey finished the race in 3:59.1 — making him the first Canadian and the 74th person in the world to break the coveted 4 minute mark.
"I didn't even have the energy to jump up and down, but realizing I did it was just...wow," Bailey said.
Continue reading at: www.lfpress.com