Despite COVID-19's impacts, Houlihan produced top times & records in 2020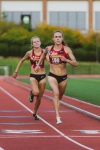 October 01, 2020
"I want to try and get as many medals as possible: that gold Olympic medal; World Championship medals... I also have world records in my sights"... but "the more important thing for me is to enjoy the process and not to get too hung up on the end goals."
By David Hunter, RunBlogRun.com
The second focus piece by David Hunter is on U.S. star & Olympian Shelby Houlihan, who, despite, the pandemic has had some excellent racing in 2020. See how the athlete views her immediate world, and her dreams in the future.
For those of us who so far have been fortunate enough to sidestep the Coronavirus, there is still inconvenience. Even though we realize we must collaborate as one to defeat this pandemic, each of us must choose our own way to react, to adapt, whether it is shuttering at home; conforming with recommended protocol; working remotely; collaborating with family members; assisting with school-aged children and aging parents; etc. Decorated distance runner Shelby Houlihan has her own distinct manner of dealing with the seemingly-unending challenges of 2020 - and has nonetheless been able to set an American record and a world record along the way.
The 27-year-old Houlihan, a 12-time All-American while at Arizona State University, is a member of the Bowerman Track Club and trains under the watchful eye of widely-respected coach Jerry Schumacher. In addition to dealing with the COVID-19 threat that impacts all of us, Houlihan - a Portland, Oregon resident - has had to deal with additional concerns during this topsy-turvy year: security issues arising from nightly skirmishes among peaceful protesters, outside agitators, local police and unsolicited federal enforcers; devastating wildfires gripping increasing sectors of the west coast; and choking smoke resulting in the world's worst and most dangerous air quality. Through it all, Shelby finds a way: "There is smoke and stuff around here. It is really, really smoky. It's getting crazy," expains Houlihan. "Actually, you can't run outside now. In Portland right now, it is like the worst air quality in the world. It's not good - especially not for running." But Houlihan, always resourceful, finds a way. "I'm going to have to hop on a treadmill later today."
The 13-time national champion easily recalls when she initially learned about the global health threat. "When I first found out it was definitely rough," explains Houlihan who immediately understood the likely consequences that were ahead. "I knew it [an extensive shutdown and interruption] was a possibility because I was seeing a lot of college programs shutting down. I knew it was only a matter of time."
Houlihan's peculiar and perhaps mischievous response to the pandemic reality wouldn't have been predicted for any other world class athlete. "When I did find out the Olympics were postponed, I think I had a little bit different reaction than some of my teammates," she begins with a chuckle. "I ended up going to the grocery store and just buying a bunch of junk food. I was like, 'What's the point?'" she laughs. "For that next week after I found out, my diet went downhill. I just binged on like candy and cookies and junk food. That was like my morning breakfast."
Amidst the laughter, the reigning national indoor champion at 1500m & 3000m and outdoor champion at 1500m & 5000m, explains there was a method to her apparent madness. "While I was doing that, I wasn't taking a physical break. I was still running every day and working out. It wasn't like I was getting super out of shape by doing that," she explains. "So it was like I was giving myself that mental, grieving break, I suppose. After about a week I was really sick of eating junk food. So I kind of incorporated some of the healthy eating back into it."
All kidding aside, Shelby sees a tangible benefit from her food frolic. "I think it was a good mental break for me. I felt like up until that point it was just like hammering year after year after year. It was actually really nice to take a year and have no pressure." And the Sioux City native saw the descending pandemic as creating an unusual and special opportunity for rejuvenation prior to a later start to an unprecedented and abbreviated season. "I didn't have to get ready for any specific big race. And when we were able to start putting on meets, we ended up to altitude camp [in Utah]. And I like to use altitude camp as my dial-in period where I usually turn it on and do all the right things. I try to treat that as normal. I did all the right things and buckled down. It was a good trip." And after a brief pause, she adds, "And then we came down and ran really fast."
Like all training groups, Bowerman Track Club had to figure out the best way forward for its athletes. "We could train with the hope of having some races popping up in August or September. But you never know if that is actually going to happen. So we decided to create our own schedule: do races in July," explains Houlihan. The races were held at Portland's Jesuit High School track and featured an announced broadcast and all of the elements necessary to ensure any record performances would be properly recognized. "We were really fortunate to be able to do the things necessary to make it count," recalls Houlihan. "Thank God for that. I was having a hard time wrapping my mind around doing an American record in the 5K and at the end not count," laughs Shelby.
Continue reading at: runblogrun.com