After 60 years, sub-4 minute Mile still the standard for runners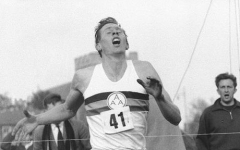 May 06, 2014
Henry Marsh: "My dreams and goals were around the Mile and running a sub-4 Mile."
By Doug Robinson, Deseret News
Like so many others around the world, Henry Marsh noted the 60th anniversary this week of Roger Bannister's historic feat. On May 6, 1954, Bannister became the first man to break 4 minutes in the Mile, running 3:59.4 on a cool, blustery day on the wet cinder track at Oxford. It was exactly two seconds faster than Gunder Hagg's 9-year-old world record.
Marsh, a former BYU All-American and Olympian, has a special reason to acknowledge the anniversary. He is a member of the sub-4 club. He competed in four Olympic Games, set four American records in the steeplechase, and ranked #1 in the world in that event three times, and he still mentions his sub-4 Mile in the same breath as those other accomplishments.
"That was the standard," he says. "That was it."
Since Bannister's historic run, more than 1,300 men have broken the so-called 4 minute barrier, including 420 Americans and 11 Utahns. Twenty to 30 men join the club each year, but the sub-4 still retains a certain mystique and is on every distance runner's bucket list. Maybe it's the nice even numbers — 60 seconds per lap, 4 laps, 4 minutes — that capture their imagination, this perfect combination of speed and endurance.
Continue reading at: www.deseretnews.com