Dozen Greatest Moments of Alexa Efraimson's High School Career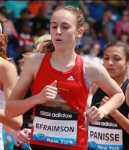 August 28, 2014
Includes 4:32 Mile at 2014 Millrose Games, 2013 World Youth Championships 1500m bronze medal and 4:07 metric Mile
By Brandon Miles, MileSplit.us
Just as we were starting to get excited to see what Alexa Efraimson could possibly do to top her historic first three years of high school, Efraimson decided on Monday that she will be taking a much different path in her development onto the next level. Prior to the start of her senior year of high school, the 4:32 Miler and 4:07 1500 meter runner Efraimson turned pro by signing a contract this week with Nike.
Since her high school career and amateur athletic status is officially over, MileSplit is counting down Efraimson's dozen greatest high school running moments in chronological order over the last 3 years.
She accomplished and achieved so much during a relatively short pan of 36 months that can be called now as her "high school glory days" since showing up for her first day of cross country practice at Camas High School in Washington. Efraimson is now finds herself on a new professional path that is being paved by Olympic dreams and World Championship pursuits.
Let's slow down a bit and go down memory lane of Alexa Efraimson's greatest achievements and races as a high school runner...
Continue reading at: http://usa.milesplit.com