Dunlap runner wins steamy Main Street Mile in record time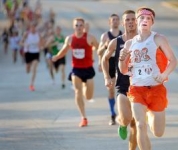 July 06, 2012
By Jane Miller, Peoria Journal Star
What a summer Johnny Crain is having.
The 2010 1600-meter state champion for Dunlap High School won the 15K race at the Steamboat Classic three weeks ago.
And Friday, Crain became the first runner to go under four minutes in the Main Street Mile, winning the fourth annual event in 3:59 — in temperatures over 100 degrees and a heat index even higher.
"It just shows the power of a strong mind," said Running Central owner and race organizer Adam White, who is also Crain's boss during the summer. "If it is to be, it is up to me. Johnny believed today he could do something extraordinary, and he did — even when all the elements were saying no. That's the beauty of this sport."
Continue reading at pjstar.com