Eat Like an Elite: Shelby Houlihan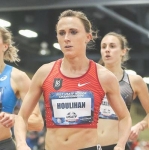 February 12, 2018
My diet has come a long way since high school and college. I really started from the bottom. I used to have no idea what was healthy.
By Ally Spiroff, Runner's World
The 24-year-old 5000 meter specialist has her sights set on the 2020 Olympics, with a full racing schedule this year. In 2017, Shelby Houlihan won the 5000m at the USA Outdoor Track & Field Championships and went on to place 13th in the event at the 2017 World Championships.
The 2016 Rio Olympian set her personal record this past year in the preliminary round of the World Championships, where she ran a 15:00.37 to qualify for the finals. And she's continuing to run strongly to start 2018, winning the 3000m at the Boston University Bruce Lehane Scarlet & White Invitational with a PR time of 8:36.01 on February 3.
Houlihan has come a long way since her McDonald's diet and loves to cook recipes from teammate Shalane Flanagan's cookbook Run Fast Eat Slow.
Pre-Race Meals
Two nights before, I'll have a steak dinner or some other type of red meat. With my steak, I'll have Brussels sprouts or asparagus and sweet potato fries. The night before I'll usually have pizza, but not greasy pizza—a thin-crust pizza. I usually top it with chicken and veggies like onion, mushrooms and spinach.
The Post-Race Classic
After I race I want a big, greasy cheeseburger and a milkshake!
Continue reading at: runnersworld.com