Ed Whitlock, 82, close to breaking world record at Cambridge Classic Mile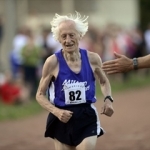 June 15, 2013
Nate Brannen wins Open race in 4:06.38; event featured Mile races by elementary and high school athletes, elites, paramedics, local media and Olympians
From The Record
CAMBRIDGE, Ontario, Canada — From exultation to empathy, emotions were running high at the track for Friday night's Cambridge Classic Mile.
One world record — a sub-4 minute Mile on the crushed clay track at Galt Collegiate Institute by local Olympian Nate Brannen — came within seconds of being reached.
At 82-years-of-age, Ed Whitlock, Canada's fastest octogenarian, nearly broke the world record for the fastest mile run by someone over 80.
The Milton senior finished in 7 minutes, 1.63 seconds, nearing the current WR of 6:26.6.
"I thought it was going rather downhill, I'm not in shape for a Mile race," Whitlock said.
Whitlock is training for the Scotiabank Toronto Waterfront Marathon in October. Besides being one of the world's fastest runners over 80 to run a mile, he also holds the record for fastest marathoner in the over-80 category at 3:15:54.
Continue reading at: www.therecord.com