Efraimson Sets Mile Meet Record at New Balance Indoor Nationals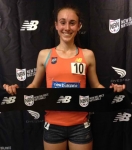 March 16, 2014
2013 Foot Locker Cross Country national champion Grant Fisher wins boys Mile in 4:09.46
By Chris Lotsbom, Race Results Weekly
NEW YORK -- The third and final day of New Balance Indoor Nationals came to a close here today, with one meet record falling in the distance disciplines. Camas, Wash., junior Alexa Efraimson clocked 4 minutes, 38.46 seconds to win the girls Mile, shaving two seconds off Elise Cranny's previous meet best of 4:40.62.
Racing for the second time at The New Balance Track & Field Center at The Armory this year, Efraimson came in with the goal of timing under 4:35. At the NYRR Millrose Games Wanamaker Women's Mile on February 15, Efraimson finished sixth in 4:32.15 against professional and collegiate competition. Today, she'd only have to face off against high school student-athletes.
Gaining the pole position from the start, Efraimson passed 400 meters in about 66 seconds. Hitting halfway in 2:16.3, it was clear that Efraimson would win. The question was by how much.
"The Armory is a fast track, and I just feel like if I'm going to PR by myself anywhere it's going to be here," she said, explaining why she went so hard early on.
A five-second lead at three quarters of a Mile stayed consistent through the finish, as Efraimson pushed on despite feeling the after effects of her hot early pace. Slowing in the second half, she'd ultimately stopped the clock in 4:38.46, a new meet record.
"It is satisfying. I was hoping for a little bit more but that's OK. There are more meets," said Efraimson, who sported a hand-written saying of 'Dream Big, Run Fast, Finish Strong' on her left calf.
Efraimson noted that her next big race will be the Arcadia Invitational 2 Mile in California next month.
Continue reading at: runnersweb.com