Elle Purrier's rise to the top leads to U.S. Olympic team dream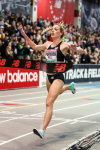 February 07, 2021
"At this time I really don't know what [Olympic Trials] event I'm doing - the 1500m or the 5K."
By Dave Hunter, RunBlogRun.com
A favorite, albeit shopworn, expression is "Hard work beats talent when talent doesn't work hard." It is a saying that can be witnessed and validated in many walks of life. That maxim is often evident in track & field where a dedicated athlete can close the gap and occasionally overcome a more naturally skilled performer who has drifted away from thorough preparation.
A footnote to that maxim is: "But when talent works hard, you may well have something very special." Think: Ashton Eaton; Ryan Crouser; Allyson Felix; Shelly-Ann Fraser-Pryce. The reigning Wanamaker Mile champion Elle Purrier is quite talented. And she has a deeply-rooted and finely-tuned work ethic. Might Elle Purrier be on her way to becoming something very special?
Purrier grew up in rural Vermont on her family's dairy farm - a setting quite different from most budding track & field athletes. "My parents milked about 40 cows daily and my brother and I would get up and do chores before we left for school," explains the New Balance athlete who unhesitatingly slid right into the farm's team approach. "I feel like that was what the routine was, what we were expected to do while I was growing up. Things were kind of simple and easy back then, it seemed." The challenge of farm life never fazed her. "I didn't really realize that that was kind of a different thing, a different lifestyle than most other people until I got out of town and went to college." And with a laugh, the New Balance athlete adds, "Not everybody is from a small town!" Looking back, Purrier now appreciates what farm life gave her. "I think in the long run it has really helped me as an athlete. I've learned a lot of my lessons on the farm and a great sense of work ethic."
In high school, a coach saw her potential during a school fitness test and steered Elle toward track. "I ended up winning my first track race and it kind of just came from there," remembers Purrier. "I definitely had a lot of natural talent. I think that probably came for growing up on the farm and just doing things from a young age. I always felt like I had to work a little bit harder to keep up." That talent/work ethic combo paid off. By the time Elle was ready to move on to college, she had captured 16 Division III high school state championships.
While a few of the larger northeastern universities reached out to Purrier, Elle found smaller college settings more to her liking. "I really didn't have an understanding about what the college running scene was like at all. I was kind of overwhelmed," confesses Purrier. "Honestly, I think [the larger schools] would have been too much for me at that time in my life. At that time, I still didn't understand how good I was. And I wasn't really ready to really buckle down and just put everything into my running career. I think I was still a kid and learning so much."
After she finally selected the University of New Hampshire, she knew she made the right choice. "I felt very comfortable with it. I felt like I fit in more with the team. It still was a big adjustment for me." While at UNH Purrier was ably guided by Wildcat coach Robert Hoppler under whose guidance Purrier captured the 2018 NCAA Indoor Mile title and the 2018 Penn Relays Mile crown. "Hop is a blue-collar kind of guy. He is still one of my closest mentors. And I talk to him often," reveals the 11-time NCAA Division I All-American. "He got me where I am."
After college, Elle turned her attention to the pro ranks. "I kind of went with my gut - similarly to the way I looked at college," explains Purrier of her decision to align with New Balance Boston. "I just felt that New Balance Boston was the best option for me. I just didn't think I would be very happy anywhere else. I could see from the other athletes that they were treated very well. They seemed more like a good family, I guess. The transition went very well."
Now in her 3rd year with "Coog's Crew", Purrier knows she is in the right environment to reach her full potential. "I kicked up my training and my mileage. And with my teammates we've become very close. Mark [Coogan] is very good to work with. He's really chill. He has great confidence in his athletes. And that is something that I have really done well with. His confidence in me has helped me believe in me - more."
Continue reading at: runblogrun.com
Photo credit: Kevin Morris