Emmanuel Bor #500 American to Go Sub-4!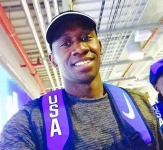 January 27, 2018
Bor also earned $500 bonus as the 500th American under 4:00 thanks to a promotion from Bring Back the Mile, Saucony & Running Warehouse: "It's really awesome to break that barrier. It's amazing… Today I am so happy. 3:58 is awesome."
By Jonathan Gault, LetsRun.com
BOSTON — On June 1, 1957, Don Bowden, a 20-year-old student at the University of California, Berkeley, woke up, took his final exam in economics and drove over 70 miles inland to the College of the Pacific in Stockton, California. A few hours later, on a cinder track at the Pacific Association AAU meet, Bowden ran the Mile in 3:58.7, becoming the first American to break 4 minutes.
A year later, Americans Dyrol Burleson and Jim Beatty joined Bowden in the Sub-4:00 Club and over the years the list of sub-4 Americans would slowly expand. It took 22 plus years for the U.S. Sub-4:00 Club to reach 100 members, and just more than 14 more to reach 200 and just less than 14 to reach 300 but in recent years the once-exclusive club has expanded rapidly. It only took five plus years to go from #300, John Richardson in 2008, to #400, Robby Andrews in 2013 and the pace has only picked up since then. An annual record 27 Americans joined the Sub-4:00 Club in 2016 alone!
And today, 60 years, 7 months, and 26 days after Bowden's feat, Emmanuel Bor of the U.S. Army WCAP became the 500th American to break 4:00 in the Mile, running a time (3:58.77) eerily similar to Bowden's original mark on a bouncy, banked indoor oval at Boston University that in no way resembled Pacific's now-demolished cinder track.
Continue reading, with full race results and video clips, at: letsrun.com