Family Affair: Father & Son Hold Record as Fastest Mile Duo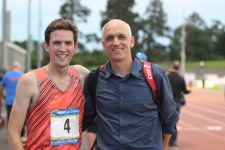 March 03, 2017
Gregoreks pass Keinos, now #1 combo: "When we found out we got the fastest combination we were kind of laughing about it—it's a fun bragging rights thing."
By Erin Strout, Runner's World
Johnny Gregorek, a member of the New Jersey-New York Track Club, knew the indoor Mile race at Boston University last Sunday, Feb. 26 would result in a fast time—reliable pacing was set up, two of his teammates were racing, and Edward Cheserek was going for an NCAA record.
The race went according to plan. Cheserek, finishing in 3:52:01, won and set the new collegiate mark. Kyle Merber, Gregorek's teammate, was right on Cheserek's heels in a best time of 3:52.22. Then Gregorek crossed the line in 3:53.15—also a personal record.
It wasn't until later that Gregorek, 25, found out that his race result also meant he and his dad, John Gregorek, 56, are now the fastest father-son duo. It's an unofficial mark, but only 10 such fathers & sons have ever broken the coveted 4 minute Mile mark. The senior Gregorek competed for Georgetown University and twice made the U.S. Olympic team in the 3000 meter steeplechase (1980 & 1984). He also ran a 3:51.34 Mile in 1982.
Continue reading at: www.runnersworld.com