Filmmaker Chosen for First-Ever espnW Film Fellowship Grant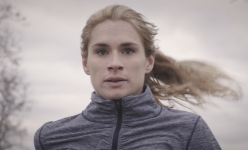 February 26, 2016
"Run Mama Run" by Daniele Anastasion will examine motherhood and athleticism through the eyes of Sarah Brown, a professional Miler who is training through her pregnancy for the Olympic Trials 2016.
By Jennifer Cingari, ESPN Media Zone
The espnW Film Fellowship program presented by Walmart will grant funding to filmmaker Daniele Anastasion to direct a docu-series consisting of four short films examining motherhood and athleticism through the eyes of Sarah Brown, an elite track athlete who will train through her pregnancy. Anastasion is the winner of the first-ever fellowship program, which sought to find a filmmaker hoping to bring a woman-centric sports story to life on screen. Anastasion will work closely with the ESPN Films team and will chronicle her journey on espnW.com. The announcement was made yesterday at espnW's Impact25 Gala in New York City.
The docu-series, "Run Mama Run," will follow Brown as she comes off the best track season of her career and continues with tailored workouts in hopes of making the Olympic team, all while pregnant with her first child. Due in March with a baby girl, the episodes will chronicle her journey through pregnancy and into postpartum training. Anastasion will take viewers through Brown's workout and nutrition regimen as she pushes her body to the limits with the help of her husband and trainer, Darren Brown.
"I'm thrilled about this fellowship and excited to tell Sarah's story," said Anastasion. "I'm especially grateful to espnW and Walmart for supporting films about strong women."
Continue reading at: espnmediazone.com