Five-minute Mile goal eludes Farmingdale runner, but not the challenge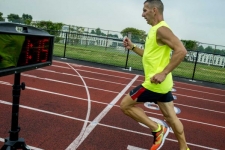 September 17, 2014
Bannister "became my 'vision quest', I'm just making it age-appropriate by going for a sub-5, not sub-4."
By John Hanc, Newsday
Finishing his warm-up on a high school track in Plainview last month, Joe Picini stopped and faced the crowd of 18 friends and family members who had assembled to witness his one-man race against the clock.
"Hey guys, thanks for coming," he said. "We're trying to turn back the hands of time here."
Picini -- a longtime competitive runner who also coaches runners -- had set himself an ambitious goal. On this Sunday morning in mid-August, he was attempting to break a 5-minute Mile, a lofty achievement for any runner, particularly Picini, who was 10 days shy of his 57th birthday.
As it turned out, those hands of time refused to stand still: Although he was on pace in the first quarter mile to reach his goal, he slowly began to fade behind his pacesetter, and by the last lap, he was struggling. Picini missed his five-minute goal by 39 seconds, which may sound like a trivial amount of time in a round of golf or a senior league softball game, but it's a huge chasm in middle-distance running.
No excuses
At the end of his four-lap effort at Plainview-Old Bethpage John F. Kennedy High School, onlookers applauded as Picini walked slowly around the track, hands on hips and still panting from the exertion made for a feat that most men his age wouldn't think of attempting. Had he been so inclined, there were reasons he could have cited to explain why he fell short of his target.
Continue reading at: www.newsday.com