Former MSU track star Soratos adjusting to professional career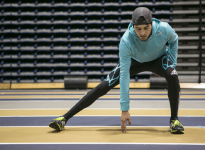 March 11, 2016
"I made such a breakthrough last year here in Bozeman, training with Lyle. … So I figured if it's working, why change anything?"
By Michael Applegate, Bozeman Daily Chronicle
The competition was fierce. The stages were bigger. Cristian Soratos had just himself to keep his nerves in check.
Absent were the former Montana State standout's teammates, coaches and family in recent indoor meets in New York and Boston. Instead of his former school emblazoned across his chest, adidas was written in small print below its logo.
Soratos no longer was running for a team, but for himself.
That's perhaps been the most difficult adjustment for the Salinas, California native, who turned professional eight months ago. Before, he sought out teammates for lighthearted conversations ahead of races to keep calm.
Continue reading at: www.bozemandailychronicle.com