Former Nashoba runner Coby Horowitz 'relieved' to break 4 minutes in Mile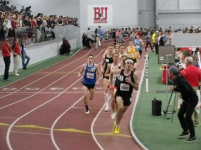 March 02, 2016
"The last 400, I couldn't hear anything. Everyone knew what's going on."
By John Conceison, The Telegram
Coby Horowitz calls himself very indecisive.
Tell that to the second-heat Mile field and the crowd on hand last month at Boston University's John Thomas Terrier Classic.
The former Nashoba Regional cross-country and track standout from Stow knew to turn on the burners over the second half of the race, and the rewarding result was becoming the second runner from Central Mass. in the past four years to break 4 minutes in the Mile. He exhaled after winning his heat in 3:59.55 on Jan. 30.
"I was surprised I'd be so relieved," said Horowitz, who graduated from Bowdoin College in 2014. "It was such a thrill to see all my friends so happy."
Continue reading at: www.telegram.com