Gallagher Linked to Olympic Gold Medalist Centrowitz Jr.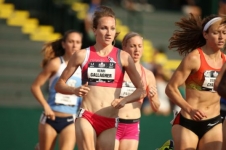 September 15, 2016
"My coach Matt Centrowitz is probably one of the best in the country and is really great at developing athletes, and teaching you not just how to be a better runner, but also what it takes to really learn the sport and understand it."
By RikkiLynn Shields, The Manhattan Quadrangle
Kerri Gallagher, Manhattan College's new cross country head coach has a long list of achievements and experiences.
A professional runner herself, Gallagher came close to qualifying for the 2016 Olympics. Had she qualified, she would have been there with her coach's, Matthew Centrowitz Sr., son, Matthew Centrowitz Jr., who won the Olympic gold medal in the 1500 meters. Gallagher is coached by Centrowitz Sr., who attended Manhattan College for a year before transferring to the University of Oregon, where he led his team to the 1977 NCAA Cross Country Championship win and eventually ended up breaking Steve Prefontaine's 1500m school record.
Gallagher was an assistant under Centrowitz Sr. at American University, where she also trained under him.
"My coach Matt Centrowitz is probably one of the best in the country and is really great at developing athletes, and teaching you not just how to be a better runner, but also what it takes to really learn the sport and understand it," Gallagher said. "I think I was learning to coach more than I was training to be a better runner but they both happened kind of at the same time. It was a great experience for me and I wouldn't trade it for the world."
Continue reading at: www.mcquad.org