Getting to Know: Jake Hurysz, CU Mile record holder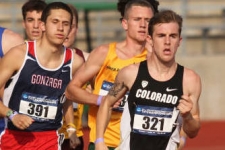 April 08, 2015
"The goal was to break 4 minutes. The difference between 3:58.13 and 3:59.99 is pretty big, so it felt good to run a really fast time."
By Jake Wilkes, CUBuffs.com
Tell us about your background. How was your high school experience? What influenced you to get involved in running?
Jake: My dad was a really competitive cyclist when I was little, so endurance sports have always been his thing. I played baseball growing up, as well as high school basketball and soccer. I began to run track in the spring in order to stay in shape for soccer in the fall. I ran track my sophomore year of high school and it went really well. After that, I sat down with my parents and my coach, and after evaluating everything, I decided to focus on running knowing that there was a chance that I could go to college for it. I started cross country the next fall and continued from there.
What is your favorite running event and how does that influence your training?
Jake: I really like the Mile and the 1500. They're fun because they are shorter races and have the speed aspect to it. We do a lot of speed work on the track running 400 and 200 meter workouts, and that's really fun to me. I think the longer workouts we do in cross country can wear on me a little bit, so transferring from cross country workouts into track allows me to focus on my races and the more of the tactics of the race. It's just a lot of fun for me, and my coaches think the Mile and 1500 are my best events right now.
Continue reading at: www.cubuffs.com