Gig Harbor Boys taking aim at 4 x Mile record at New Balance Nationals Indoor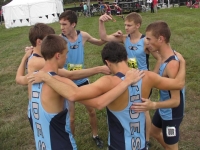 March 09, 2014
Nike Cross Country Nationals team champion, Gig Harbor, looks to best the national record of 17:20
By Doug Binder, Dyestat.com
The last time that Wolfgang Beck, Logan Carroll, Tristan Peloquin and Mahmoud Moussa joined forces in a running event, they hoisted the Nike Cross Nationals team trophy.
This week, the top guys from Gig Harbor are planning a trip to New York City for New Balance Nationals Indoor and a chance to race in the 4 x Mile. The national record is 17:20 (that's a 4:20 average), and it's a possible that it could go down.
Gig Harbor coach Mark Wieczorek stresses that point. It's possible, maybe not probable.
"We took some down time (after cross country)," Wieczorek said. "We're building back in. If this meet was in February we probably wouldn't do it. But we treat it like starting (outdoors) a little bit earlier and the guys are rounding into shape."
Besides Moussa, who was at The Armory last year with Arcadia (CA), the experience will be something new for the other three.
"It's a fun opener," Wieczorek said. "It's a relay and it's low pressure. The guys are not super-duper sharp, but they are fit."
There is also no guarantee that Gig Harbor will win. Christian Brothers (NJ), no stranger to indoor track or The Armory, has a lineup that includes Mike McClemens (4:14.20 for 1600), Blaise Ferro (4:23.76 for 1600), Fran Bogan (4:28.50 for 1600) and Tom Rooney (4:14.26 for 1600). Keep in mind that CBA was second at NXN.
Continue reading at: new-balance-indoor-nationals.runnerspace.com