Grand Blanc's Fisher makes history with sub-4 minute Mile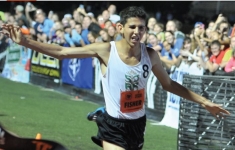 June 05, 2015
7th U.S. high school boy to join select club, ties as 3rd fastest HS Miler: "I don't really know what just happened..."
By Jeff Hollobaugh, Special to the Detroit Free Press
ST. LOUIS -- Running under the lights on a balmy Thursday evening more than 500 miles from his hometown of Grand Blanc, Grant Fisher, the nation's top high school runner, shattered the "magic" 4 minute Mile barrier. More than 60 years after Roger Bannister became the first to break it, Fisher became the seventh U.S. high schooler to accomplish the feat, and the first from Michigan.
Running in the pro race at the Nike Festival of Miles at St. Louis University High School before 2,000 screaming fans, Fisher placed third in 3:59.38 -- a hair faster than Bannister ever ran.
For the first half of the race, Fisher's prospects looked doubtful. The "rabbit" hired to pace the field started too slowly, then opened up a gap on the field in an effort to get back on pace. Fisher, more than 10 meters behind, had to speed his third lap in order to challenge for the win.
He stormed the last half-mile, battling defending champion Jordan McNamara on the final stretch, finishing a stride behind the former Oregon star (3:58.81). In between, Tyler Pennel clocked 3:58.99.
Afterward, Fisher appeared dazed by his achievement. "I'm excited," he said. "I don't really know what just happened. The pace was a little weird at first, but it worked out."
Continue reading at: www.freep.com