Great Matchups: Liquori Beats Ryun in The Dream Mile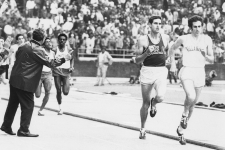 September 16, 2020
"I wanted us both sagging in the stretch, looking more like boxers, both dead, like we were running on sand."
From Track & Field News
Track's rich history is full of great head-to-head clashes. To kick off our new series of trips to the TFN vaults to find coverage of some of the most memorable battles, we take you back to our II May 1971 edition for a legendary 4-lap clash pitting Jim Ryun against younger rival Marty Liquori. That issue featured a pair of stories on the Dream Mile, first a news piece by Jim Dunaway & Bob Hersh and then an accompanying feature by Hersh. How we reported it then.
A Long Kick Strategy By Liquori Snaps Ryun
Philadelphia, Pennsylvania, May 16: Super-highlighted by one of the great—and most highly publicized—Mile dụels in history, the third Martin Luther King, Jr. International Freedom Games second-featured enough topflight performers and performances to stand out as an exceptional meet even without the Mile.
But the majority of the 20,000-plus fans gathered in the raw weather (55° and drizzling rain) were there to see one race only, the "Dream Mile."
Manhattan frosh Joe Savage went to the front of the 11-man pack at the first turn and held the lead through the initial 660. Marty Liquori and Jim Ryun stayed in the middle of the pack, being in 4th and 6th at the first 440 in 61.1 and 61.4.
West Virginia's Mike Mosser assumed the lead from Savage momentarily before Ryun took over, leading Mosser and Liquori through the half in a tightly bunched 2:03.3 for each. With some 700 yards remaining, Liquori made his move, accelerating strongly down the backstretch with Ryun in tow. Surprising Reggie McAfee of Brevard moved into 3rd at this juncture, shadowed by Byron Dyce. Liquori maintained his strong pace, and at the gun his 3:00.0 gave him an 0.3 bulge on Ryun.
The distance between the two stayed the same until the final curve, where Ryun pulled onto his rival's outside shoulder. But he got no closer, as Liquori held the narrow margin to the tape, with both clocking 3:54.6, a PR by 2.6 seconds for Liquori and the fastest race for Ryun since his world record 3:51.1 in 1967. After the race, Liquori appeared to have more left than Ryun. Liquori's strategic homeward kick from far out yielded a blistering 1:51.3 last half and a 54.6 final quarter—significantly faster than anything he has produced before in a quality race. [ED: Note that a subsequent reading of the film on the Bulova Phototimer adjusted Ryun's time to 3:54.8, 0.2 behind Liquori.]
Meanwhile, halfmiler Dyce finally unleashed his lethal kick in the last 220 to top McAfee, 3:59.6–4:00.0. McAfee's time is the fastest ever by a Black American, surpassing Harry McCalla's 4:00.8 set in Ryun's '67 record race. All the placers behind the top two had trouble finishing, as an eager mob of friendly athletes, officials and pressmen quickly surrounded Liquori and Ryun.
The Dream Mile Becomes A Reality
"Jim made it boring by being so good. Maybe we can make it interesting again." They sure did.
Jim Ryun, who for years dominated America's Milers, and Marty Liquori, who wanted to "make it interesting" but had other objectives as well, renewed their track rivalry at the Martin Luther King, Jr. International Freedom Games. Their race was a classic, every bit worthy of the excited anticipation which had preceded it, which is saying a lot.
The pre-meet interest, not only for track nuts but among sports fans generally, was a story in itself. The buildup was probably the greatest for any single footrace since the historic "Miracle Mile" at Vancouver in 1954, which matched legends Roger Bannister and John Landy, at the time the world's only sub-4 Milers.
Continue reading at: trackandfieldnews.com