Hammond Breaks Four Minutes, Sets School Record in Mile at Roanoke Twilight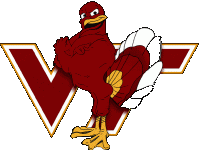 May 10, 2012
Fellow Hokie Ryan Witt also clocks sub-4 minute Mile
By HokieSports.com
SALEM, Va. – Senior All-American Michael Hammond broke the four-minute barrier in the one Mile run and set the school record with a time of 3 minutes, 58.91 seconds as the Virginia Tech distance crew competed at the Roanoke Twilight Qualifier at the C. Homer Bast Track/Alumni Field Complex on the campus of Roanoke College Thursday night.
Hammond, who also holds the school record in the indoor Mile at 3:58.41, won the event in another Tech record time as he went sub-4 in the Mile for the first time outdoors. On April 29, Hammond also set the school record in the 1500 meters (3:39.22).
Ryan Witt, who recently wrapped up his Tech career this indoor season, also broke the 4-minute barrier at 3:59.91 competing unattached and senior All-American Will Mulherin beat his previous school record clocking 4:00.52. Mulherin's previous outdoor Mile school record of 4:00.93 was set at the 2010 Penn Relays. In addition, senior Chris Walizer turned in a solid 4:05.24 to place fourth and junior steeplechaser Jason Cusack ran 4:11.04.
Continue reading at: HokieSports.com