Heather Kampf Talks About 2012, Plans for 2013-16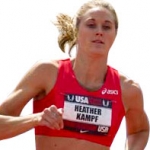 December 17, 2012
By Down the Backstretch
Heather Kampf's 2012 running season was "bookended" by USA Championships. In May she won the USA Road Mile title in Minneapolis and in December she was part of the Team USA Minnesota team that won the USATF Club Championship title in Lexington, KY. Here she talks about her road Mile success, the Olympic Trials, the Club Champs and her goals for 2013 and 2016.
Down the Backstretch: You were the Road Mile "Queen" this year. Was that something that just evolved as you continued to win or was the plan going into the year to focus on those events?
Heather Kampf: Oh gosh, that term is certainly not one I made up for myself, but I guess it's nice to be called the "Queen" of anything! It's funny, my coach even was answering my calls this fall by saying, "Your Highness..."
Continue reading at: downthebackstretch.com