Heather Kampf to Defend Ryan Shay Mile Title in Three-Peat Attempt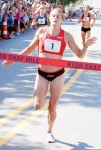 July 22, 2014
Finnerty, Stockberger, McAlary top men expected; third stop on the Bring Back the Mile Grand Prix Tour 2014
CHARLEVOIX, Mich. – The 7th Ryan Shay Mile will take place in Charlevoix, Michigan on Saturday, July 26 at 10:30am. This is an invitational road mile with separate races for men and women. It features $4000 in prize money ($1000 champion, $500 runner-up, $250 third) sponsored by Bergmann Marine. This event provides elite middle-distance and distance runners with a competitive opportunity on the spectator lined streets of downtown Charlevoix in scenic northern Michigan. The Shay Mile is also the third stop on the Bring Back the Mile Grand Prix Tour 2014.
Last year, Heather Kampf joined Jeff See and Daniel Clark as the only runners to win back-to-back Shay Mile titles. This year, Kampf, 27, returns with a chance to become the only three-time winner of this event. Thus far in 2014 Kampf has represented the United States twice at the highest levels of Track & Field competition. At the IAAF World Indoor Championships, held in Poland, Kampf reached the final of the 1500m race. In the Bahamas, site of the IAAF World Relay Championships, she helped the USA women to a second place finish in the 4x1500 meter relay. In between those two events, the Team USA Minnesota athlete also won the USA Road Mile Championship in Des Moines, Iowa.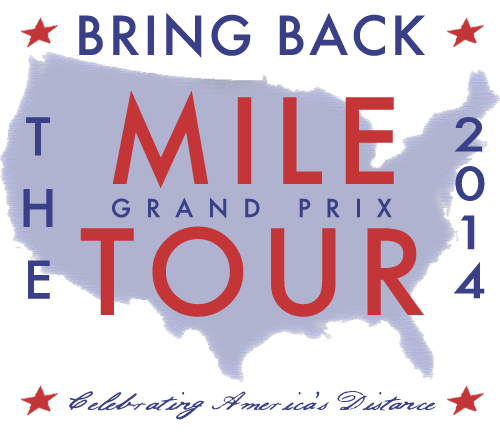 A deep women's field should provide plenty of competition for Kampf. Amanda Eccleston has run a personal best of 4:09 for 1500 meters this year and a recent 4:31 Mile. At Hillsdale College, the Michigan native was a three-time NCAA Division II champion in 2012, and then competing for the University of Michigan in 2013 Eccleston was the anchor leg on the winning distance medley relay at the NCAA Indoor Championships. Additionally, Melissa Salerno, a 2012 Olympics Trials qualifier; Christy Cazzola, a 17-time NCAA Division III champion at the University of Wisconsin Oshkosh; Kristen Findley a school record holder while at Vanderbilt University; Danielle Tauro All-American while at the University of Michigan and Shannon Osika, third place in 2013 and an All-American currently at the University of Michigan, bring strong middle distance credentials to the race. While Kenyans Cynthia Limo, 2014 Steamboat Classic champion, and Ann Wanjiru, previously a member of the Kenyan national cross country team, bring an element of long distance strength to this road Mile.
The men's field could see several contenders front. Rob Finnerty, an All-American while at the University of Wisconsin, has run a best of 3:38 this year for the 1500 meters, and also ran in the 2014 USA Track & Field Championships. Likewise, Daniel Stockberger, an All-American out of the University of Indiana, has registered a best of 3:39 this year. Josh McAlary, a 2014 USA Indoor Track & Field Championship competitor, will be returning this year after a fourth place finish last year in a time of 4:00. Like his women counterparts, Kenyan Peter Mwololo brings a strong long distance background which could provide a challenge for the middle distance specialists.
The Ryan Shay Mile started in the summer of 2008 to honor the memory of Ryan Shay. Ryan passed away on November 3, 2007 while competing in the 2008 U.S. Olympic Marathon Trials in New York City. Ryan was from Central Lake, Michigan about thirty minutes south of Charlevoix. A talented runner, who through hard work and persistence, won championships in high school, in college while at Notre Dame, and in the professional ranks. Ryan was and is a role model for many young people in Northern Michigan and around the country.
Bergmann Marine, located in Charlevoix, Michigan, provides marine sales, service and storage facilities. This family owned and operated business spans three generations and has been providing service to Northern Michigan for more than twenty five years.
This event is held as part of Charlevoix's annual Venetian Festival, and in conjunction with the Drenth Memorial 5K & 10K road races on the same Saturday morning. Charlevoix is located in the upper northwestern portion of the lower Michigan peninsula.
Start List as of July 20, 2014
MEN
• Rob Finnerty, Furman Elite, University of Wisconsin, NCAA All-American, 2014 USA Outdoor Championship - 1500m, 1500m 3:38
• Daniel Stockberger, Team Indiana Elite, Indiana University, NCAA All-American, 800m 1:49, 1500m 3:39
• Josh McAlary, Michigan State University, 2014 USA Indoor Championship - 1500m, 1500m 3:42, Mile 4:00
• Tom Scott, Team Running2Win, Ashland University, NCAA DII All-American, 1:49 800m, 1500m 3:45
• Tony Filipek, Saginaw Valley State University, NCAA DII All-American, 800m 1:49, 1500m 3:44, road Mile 4:02
• Ryan Cunningham, New York Athletic Club, University of Pennsylvania, 1500m 3:45, Mile 4:05.
• Lucas Manring, Austin Track Club, Central Methodist University, NAIA All-American, 2013 USATF Indoor qualifier, 800m 1:48
• Sean Smith, Lewis University, NAIA All-American, 800m 1:49
• Peter Mwololo, Kenya, 4th in Kenyan National 10K Championship, 10K 28:04 (altitude), Mile debut
WOMEN
• Heather Kampf, ASICS/Team USA Minnesota, University of Minnesota, 2014 IAAF World Indoor Championship competitor - 1500 meters, 2012 & 2014 USA Road Mile champion, 2006 NCAA 800m Indoor champion, 800m 2:00, 1500m 4:07
• Amanda Eccleston, University of Michigan/Hillsdale College, NCAA Indoor DMR champion, 3-time NCAA DII champion, 2014 USA Outdoor Championship competitor, 800m 2:04, 1500m 4:09, Mile 4:31
• Melissa Salerno, New Balance, Fordham University, 2012 U.S. Olympic Trials competitor, 2013-14 USA Outdoor Championship, 800m 2:05, 1500m 4:12
• Kristen Findley, Rogue Athletic Club/adidas, Vanderbilt University, 3 school records at Vanderbilt, 1500m 4:14, Mile 4:37
• Christy Cazzola, University of Wisconsin Oshkosh, 17 NCAA DIII titles - XC/Indoor/Outdoor, 2014 NCAA DIII Honda Female Athlete of the Year, 800m 2:02, 1500m 4:14, Mile 4:36
• Shannon Osika, University of Michigan, NCAA All-American, 1500m 4:17, Mile 4:37
• Danielle Tauro, University of Michigan, NCAA All-American, 2013 Maccabiah Games champion, 800m 2:07, 1500m 4:14, Mile 4:38
• Ann Wanjiru, Kenya, team member for the 2011 IAAF World Cross Country Championships - 13th place, 5K 15:58
• Cynthia Limo, Kenya, 2014 Steamboat Classic 4 Mile winner - 20:00, Half Marathon 69:40
• Mary Wangechi, Kenya, 2014 Nairobi First Lady's Half Marathon - 3rd place
• Jane Njeri Kang'ara, Kenya, 10K 32:00
Pick-the-Winner contest presented by Running Warehouse click HERE.
Visit www.venetianraces.com for more information.