HOKA ONE ONE Revives 2-Mile Postal with Countrywide Competitions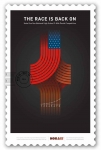 June 04, 2014
Three national flagship events plus regional Postal competitions will take place across America to crown regional and national champions in fall 2014
HOKA ONE ONE has announced the revival of the High School 2-Mile Postal competition this fall. In order to further support the growth of American distance running, HOKA ONE ONE will introduce competitions for high school cross country teams across the nation. Both regional and national champions will be crowned.
Originally founded in the 1950s and run through the 1980s, the "Postal" concept was a nationwide series of races run on tracks during the cross country season. The results would determine an unofficial national high school cross country team champion by simply totaling up the times from the top five runners from each participating team. The 2-Mile distance run on a track ensured the accuracy of the nationwide competition and coaches from around the country would mail their team times to a central reporting body and a champion would be announced soon afterwards.
"There are many great high school cross country programs throughout the country – and most do not get a chance to measure themselves outside of their own state. The beauty of the Postal competition is that any high school can compete at any time during the season and see how they stack up against other schools throughout the country. We see it as a great way to support coaches building their programs," said Jim Van Dine, President of Hoka One One. "We will have a national champion, but we will also have regional winners and awards for those teams who meet certain time standards. For example, having a boys' team averaging under 10 minutes or a girls' team averaging under 11 minutes is worthy of recognition."
There will be three HOKA ONE ONE 2-Mile Postal Invitational competitions produced by Soul Focus Sports, a sports event management group. These will be held in the San Francisco Bay Area, Southern California and New Jersey.
Coinciding with the national flagship events, regional HOKA ONE ONE Postal competitions will take place across the country with dozens of schools hosting local Postal meets any time from August 15 through December 15. Cross Country coaches will be able to enter their results and compare themselves immediately across the country at a customized interactive database at RunnerSpace.com.
Teams can start entering their marks the day of the website launch on August 15th at: www.hokaoneone.com/postalnationals