Holyoke track team encourages athletes to shoot for sub-5 minute Mile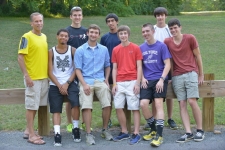 July 19, 2013
Goal: coveted membership in the sub-5 club and earning an invitation to its annual gathering: a dinner event held in early August
By Madison Granger, The Republican
HOLYOKE, Mass. - Members of Holyoke High School's track and field distance squad, past and present, will gather in a few weeks to celebrate the second annual meeting of the "Sub-Five-Minute Mile Club."
The club honors those who have pushed their limits and chased their goals on the track. Its entry standard is simple: complete a Mile race in a time faster than five minutes.
Holyoke's track distance program, directed since 2009 by coach Dave Reinhart, has been blossoming over the past few years.
It has produced Milers like Cody Hodgins, who earned a Mile title at the Western Mass. Sectional Championship in 2010 and graduated in 2012 with a personal best of 4:24. Richard Landry, the team's fastest Miler from this past season, finished his high school running career with a best of 4:37.
The club, however, was not created with these stars in mind. Reinhart, the founder of the group, said he formed the club because he understood that kids are motivated by goals.
"The elite runners on the team might shoot for school records, but there's another subset of the athletes that just aren't going to break records," Reinhart said. "So, I thought, what can they achieve?
"You still have to be a good high school runner to break five minutes in the Mile. And five is a nice round number. It makes for a good name: 'The Sub-Five-Minute Mile Club.' The club is something for that subset, it keeps them motivated to do their best."
Each year, Reinhart presents the goal of breaking five minutes to his athletes, an achievement with the added enticements of claiming coveted membership in the club and earning an invitation to its annual gathering: a dinner event held in early August.
Continue reading at: http://highschoolsports.masslive.com