How a dairy farmer from Vermont became an NCAA Mile champ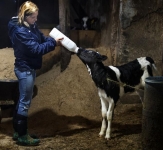 April 03, 2018
UNH's Elinor Purrier says farming has taught her to be resilient. "It's taught me life isn't a piece of cake, it's going to throw a thousand challenges at you at once.''
By Stan Grossfeld, Boston Globe Staff
MONTGOMERY, Vt. — After Elinor Purrier won the Mile in the 2018 NCAA Indoor Track & Field Championships, the University of New Hampshire senior celebrated with chocolate milk instead of champagne.
"I drink it after every workout and every race," she said. "It's the perfect ratio of carbs and protein. It's perfect for recovery. Plus it tastes good."
If this sounds like an unpaid "Got Milk" endorsement, in some ways it is. Dairy is in the 23-year-old nutrition major's blood. In 1904, her great-grandfather bought a dairy farm 10 miles south of the Canadian border and her family has been operating it ever since.
Purrier grew up milking 30 dairy cows each morning at 5:30, before showering and heading to school. Her other farm chores included tossing 40-pound bales of hay and raising two pigs.
She started running in eighth grade. After school, Purrier would run the Mile and a half from tiny Richford High School, touch the bottom of Canada, and then run back. She'd run through picturesque Montgomery, the covered-bridge capital of Vermont, and sometimes attack the steep 6-mile mountain road up to Jay Peak.
Through hard work, talent and toughness, she became a 10-time All-American at UNH, competing in the Mile, 3000 meter steeplechase (outdoors), and cross country.
"I think I'm different in the running community,'' she said. "I'm just myself and feel like I have strong roots here and I've always felt like an outsider."
Continue reading at: bostonglobe.com