How Fast Would Usain Bolt Run the Mile?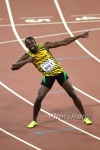 August 01, 2016
"100 meter speed translates pretty well up to 400 meters. But after that there is a large change."
By Charles Bethea, The New Yorker
Three minutes, forty-three seconds, and thirteen hundredths of a second is the fastest that a human has ever run a mile, as far as we know. Hicham El Guerrouj, a Moroccan middle-distance runner who was then 24-years-old, accomplished the feat in 1999, averaging slightly more than 16 miles per hour as he sped around Rome's Olympic Stadium track. A determined wisp of a man, El Guerrouj weighed a 128 pounds at the time and stood 5 feet 9 inches tall in his running socks. Those few who've come close to running a Mile as fast as El Guerrouj have been roughly the same size, and that's not a coincidence: if you wish to run middle or long distances quickly, it helps to travel light.
The Jamaican sprinter Usain Bolt, on the other hand, has "one of mankind's most sculpted bodies," as GQ put it a few years ago: he is 8 inches taller than El Guerrouj and weighs more than 200 pounds. When the 6-time Olympic gold medalist set his 100 meter world record of 9.58 seconds, in Berlin, in 2009, at the age of 22, he averaged more than 23 miles per hour, peaking at more than 27. He couldn't sustain that pace over a continuous Mile, of course; his best two-hundred-metre (19.19) and four-hundred-metre times (45.28) make that clear. So how much would Bolt slow down while running a Mile? Could he run that distance in less than, say, 5 minutes?
This hypothetical has been debated by running geeks for years. On the popular website LetsRun.com, for instance, one commenter began a discussion of the topic five years ago; the most recent reply is from this past May. Respondents have suggested times as low as 3:55—fewer than five hundred Americans have ever run an officially recognized 4 minute Mile—and as high as 6 minutes, a feat well within the grasp of a half-decent teen-age Miler. (More than 23,000 high school runners clock a 5 minute Mile in the United States each year.) The prevailing wisdom on the thread was summed up best by a visitor using the handle "idiots," who commented last July, "Are you guys insane??? One of the world's best Junior 400m runners and possibly the greatest 100m/200m runner ever and you think his Mile is the same as any random high school kid running track? You really think because he sprints he has no aerobic fitness at all?"
Continue reading at: www.newyorker.com