How to Run a 6-Minute Mile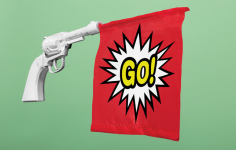 January 11, 2016
A sub-6 minute Mile "shows that you have power and a strong aerobic base, which translate to better performance in any sport."
By Lisa Jhung, Men's Health
It doesn't matter whether you're a runner or not, or whether you ever plan to toe the starting line of a marathon or 10K. Every man should aspire to run a 6-minute Mile, or at least see how fast he can run this classic distance.
Running hard for a Mile requires speed, stamina, and grit. And then there's muscle: "People often forget that you need strength to run that distance that fast," says Ryan Lamppa, cofounder of Running USA and founder of Bring Back the Mile, an advocacy group trying to restore the race to its pre-1980s glory (that is, before track & field's conversion to metric).
"Look at Milers: Unlike distance runners, they're muscular," Lamppa says.
Continue reading at: menshealth.com